News Update - Feb 28th, 7:36am PST
(source - The Guardian.UK)
Christchurch has begun burying those killed in last week's earthquake as the
New Zealand
prime minister announces an emergency funding package to support the devastated community.
The official death toll from the quake rose to 148 on Monday after another body was found, and there are grave fears for about 50 people who are unaccounted for. Among the dead or missing are dozens of foreign students, mostly Japanese and Chinese, from an international language school inside an office building that collapsed with up to 120 people inside. Up to 22 other people may be buried in rubble at ChristChurch cathedral, most of them believed to be tourists climbing the bell tower for its panoramic views of the southern New Zealand city.
The first of many funerals for victims was held on Monday for Baxtor Gowland, who was five months old. More than 200 friends and family attended the service for the baby, who was born a fortnight after Christchurch suffered its first major earthquake on 4 September. He is thought to be the youngest victim.
John Key, the prime minister, has vowed that Christchurch will be rebuilt to building standards that can withstand major earthquakes. Many of the buildings that collapsed or were badly damaged were built before New Zealand upgraded building rules in the 1970s to guard against quake damage.
The emergency finance package announced by Key was expected to cost more than NZ$100m (£47m). It comprises a wage subsidy to businesses of NZ$500 a week for each employee, together with job loss compensation of NZ$400 a week to any worker whose employer's business has become unviable. Covering the next six weeks, the package was "just the first part of the long haul to get the city back on its feet", Key said. He pledged continuing state support.
"It is designed to immediately put money into peoples' pockets and give them some confidence," he said.
Engineers and planners said the central city may be unusable for months to come and that at least a third of the buildings may have to be razed. The government has said that virtually all services in the area will have to operate from elsewhere during the rebuilding period.
"It's quite clear that a lot of buildings are going to have to come out of the business district, so where a building is condemned it will need to be taken down," Key said.
The fund will not be open to businesses with head offices outside Christchurch, or which are government-owned. An estimated 42,000 people are expected to qualify for assistance.
Key said rebuilding could take between five and 10 years and would cost between NZ$10bn and NZ$15bn.
A bill that size would amount to between 5% and 8% of New Zealand's gross domestic product.
It would be a drain on the economy of at least five times that felt on the US economy after hurricane Katrina struck New Orleans in 2005, and "probably closer to eight times"
, Chris Green, an analyst at First NZ Capital, told the National Business Review.
The former New Zealand prime minister Helen Clark, now head of the UN development programme, said the damage to Christchurch was as bad as that seen in Haiti last year. Clark, visiting in a personal capacity, said: "This is a city where the life has been squeezed out of it ... So many people no longer with us. Grieving families. People with terrible injuries. Livelihoods destroyed."
__________________________________________________________
News Update - Feb 27th, 2am PST
(source - CNN World News)
The death toll from the 6.3-magnitude earthquake that demolished parts of Christchurch, New Zealand, last week has climbed to 147, authorities said Sunday. The figure is expected to rise, the country's civil defense ministry said.Seventy people have been rescued alive since the quake struck Tuesday, the agency said.
Authorities are still working to identify the dead, police said. "We still have a list of over 200 people who we consider missing but we believe that most, if not all of those who have been confirmed dead are on that missing list.
Rescue and recovery crews have been combing through damaged buildings since the quake struck Tuesday -- toppling buildings, buckling streets and ripping the facades of iconic churches, including the Christchurch Cathedral and the Cathedral of the Blessed Sacrament.
A series of aftershocks followed.
Southern New Zealand has been hit by a series of quakes since September 4 when a 7.1-magnitude temblor struck the area. There were no deaths from that quake, which struck deeper below ground and farther away from Christchurch.
Tuesday's earthquake was part of the "aftershock sequence" from the September earthquake, the U.S. Geological Survey said.
_____________________________________________________
News Update - Feb 24th, 6pm PST
(source - news.com.au)
"NZ Braced for More Damage as Aftershocks Keep Hitting"
CHRISTCHURCH can expect further earthquake aftershocks for a year, and Wellington faces a higher risk of a bigger quake, an Australian seismologist has warned.
"I think there will be lots of aftershocks around Christchurch for about a year," said Kevin McCue, director of the privately owned Australian Seismological Centre.
"But they won't be as big as the latest one. They are likely to get smaller and less frequent."
It comes as authorities concede it is
unlikely they will find any more survivors
from Christchurch's devastating earthquake, which has left at least 113 dead and 228 missing.
The Canberra-based seismologist said the biggest surprise about Tuesday's 6.3-magnitude aftershock in Christchurch was that it took so long after a powerful quake last September, which caused no fatalities but weakened many buildings.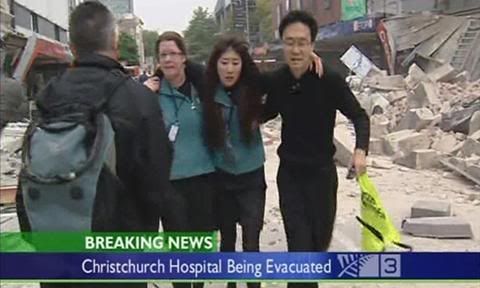 Imagine losing everything you've worked for in a span of minutes.
---------------------------------------------------------------------------------
News Update - Feb 23rd, 10pm pst
(
source - Wall Street Journal
)
Early Thursday, rescue efforts began to stretch beyond the buildings that were flattened in the downtown area, targeting roughly 100 sites. More than 70 people have been confirmed dead, but with hundreds still missing, the toll was expected to climb. Aftershocks from the quake continued to rattle nerves as emergency services worked to free survivors from the wreckage.
The city's tallest tower, the 26-story Grand Chancellor Hotel, was cordoned off after one side of the building fell away, leaving previously vertical windows at a 45-degree tilt. At one point Wednesday, after engineers estimated the unstable building had moved ten feet in the space of 10 minutes, rescue work was halted and the area cleared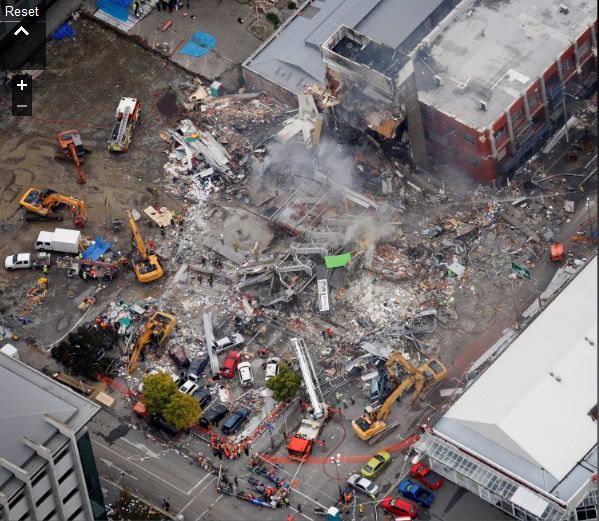 CTV building after collapse - The building was filled with workers at the time.
---------------------------------------------------------------
Tuesday, Feb 22nd -
(source AP photos)
Here you will find photos of the devastation that has come to New Zealand, primarily the community of Christchurch
Someone was in this store during the quake.
Your babysitter could have been on this bus.
This could be your husband and daughter
This could have been your home
Your son could have been riding his bike over this as the earth opened








Any, and all of these horrifying photos could have happened to you. They DID happen to someone.
Wouldn't you hope that someone would come to your aid?
With a band aid...
a toothbrush...
a cup of coffee...
or perhaps tea...
a hot meal...
any meal...
a blanket...
an aspirin...
a clean diaper for your baby.

It is in within your power to provide these necessities of life to the people who experienced this disaster.
Help us - help them